Green Bay Area Crime Stoppers receives WPS Grant award (2015/07/22)
Thanks to employees at Wisconsin Public Service Corp., several nonprofits from Northeastern Wisconsin and other parts of the state are receiving a generous gift this summer.
The Wisconsin Public Service Foundation is awarding $50,000 to 47 service organizations, courtesy of a new Employee Choice Grant.
WPS employees were invited in late June "to nominate a charity that impacted their lives or that they had a personal connection to," said Karmen Lemke, foundation director.
The recipients of the $1,000 grants were then selected in a random drawing from more than 150 nominations earlier this month.
"We just wanted to have some fun this summer and engage our employees in a really great new opportunity to have them help direct some of our foundation dollars," Lemke said. "At WPS, we do believe it's not just our social responsibility, it's our honor and privilege to be supporting the work of our nonprofits."
The WPS foundation, which is funded by company shareholders, has contributed more than $29 million to philanthropic causes in its 51-year history.
The foundation recognized more than 20 of the Employee Choice Grant recipients as well as the employees who nominated the organizations at a lunchtime event Tuesday outside WPS' corporate office in downtown Green Bay.
Three local agencies — Bay Area Humane Society, Green Bay Area Crime Stoppers and Happily Ever After Animal Sanctuary Inc. — were nominated by more than one WPS employee and received $2,000 grants.
"Crime Stoppers runs completely on donations, so these awards from the foundation are truly appreciated," said Dale Carper, board president for Green Bay Area Crime Stoppers.
---
Green Bay Area Crime Stoppers President winner of Packers Community Quarterback award (2015/01/08)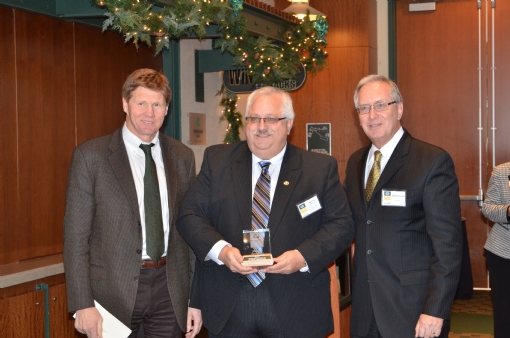 The Green Bay Packers and Humana Inc. honored 10 Community Quarterback Award winners Friday, Nov. 14, and hosted the recipients at a luncheon in the Legends Club inside the Lambeau Field Atrium. Among the recipients was Green Bay Area Crime Stoppers President Hans Lux.
The recipients were recognized for their work in the community. Each Community Quarterback Award winner received a $4,000 grant for his/her non-profit group and two tickets to the Dec. 28 Packers vs. Detroit Lions game, where they will be recognized on the field.
"The Packers are proud to honor these inspiring role models," said Packers President/CEO Mark Murphy. "Our community is a better place because of their dedication as volunteers for these important organizations."
Funded by the Green Bay Packers, Green Bay Packers Foundation, NFL Foundation and Humana Inc., the Community Quarterback Award recognizes outstanding volunteers within the state of Wisconsin. Non-profit 501(c)(3) organizations nominated outstanding volunteers who demonstrate leadership, dedication and a commitment to bettering their communities through volunteerism. The volunteers are not compensated for their services. The award is presented by Humana Inc., which provided each winner tickets to the Dec. 28th Packer-Lions game. In addition, Humana contributed $20,000, bringing the total amount awarded to $40,000. Awards at luncheon
"Community involvement is important to us because it's central to a person's sense of belonging and their overall well-being," said Jerry Ganoni, President of small business and specialty benefits at Humana. "Humana supports the Community Quarterback Awards because we want to foster volunteerism and community engagement here in the Green Bay area and throughout the country."
Please visit www.packers.com/community/community-programs/community-quarterback.html for more information about the Community Quarterback Award.
About Humana
Humana Inc., (NYSE: HUM) headquartered in Louisville, Kentucky, is a leading consumer-focused health care company that offers a wide range of insurance products and health and wellness services that incorporate an integrated approach to lifelong well-being. By leveraging the strengths of its core businesses, Humana believes it can better explore opportunities for existing and emerging adjacencies in health care that can further enhance wellness opportunities for the millions of people across the nation with whom the company has relationships. More information regarding Humana is available on the company's web site at www.humana.com.
---
John M Kennedy Foundation donation to Green Bay Area Crime Stoppers (2012/01/01)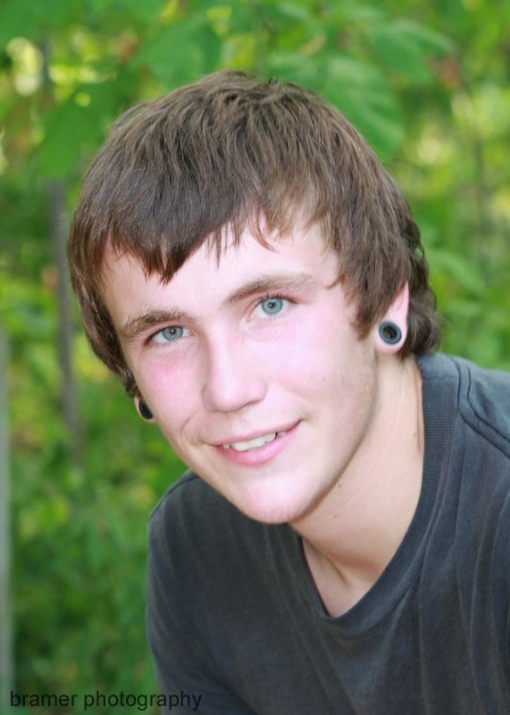 John M Kennedy
On January 25th, 2011, a young man named John M Kennedy, while in a wheelchair, was hit and killed while traveling in a roadway in Green Bay. A witness stated the vehicle that hit John man stopped a block away and then took off. The police had a vague description of the vehicle involved in the hit and run.

Information regarding the incident was placed on the Green Bay Area Crime Stoppers website two days after the incident. The Green Bay Police Department made posters of the suspect vehicle they were looking for, asking the public to submit any information they might have to Crime Stoppers. The posters were distributed throughout the community and the media was also contacted. The following day, Green Bay Area Crime Stoppers received a phone tip with some basic information about the accident. The following morning a web tip was received which contained additional information. Due to new technology Green Bay Area Crime Stoppers had recently installed for tips, we were able to have dialog back and forth with the tipster, obtaining additional information. Contact was made with the officer in charge of the investigation and within 12 hours, the Green Bay Police Department had the vehicle and driver of the accident in custody. The court trial took place in November 2011 where the driver was found guilty.

The John M Kennedy Memorial Fund was established after the death of John Kennedy. December 2nd, 2011 would have marked John's 21st birthday. As a memorial to John, the family presented to the Green Bay Area Crime Stoppers a check for $7,000.00. "Without (Crime Stoppers`) help, we`re convinced that this crime never would have been solved," Jeff Kennedy, the father of John "Mingo" Kennedy, said during a news conference to announce the donation from the John M. Kennedy Memorial Fund.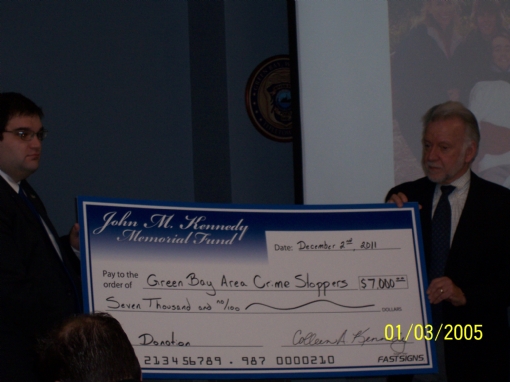 The Kennedy`s family presented the donation to Crime Stoppers after showing a slide presentation with images from John`s life.

This is why the members of all Crime Stopper Boards do what they do, helping to make a difference in their communities!

---